Classical Concert Listing in the Netherlands
event listing and previews of concerts and music-related events in the Netherlands in English
free or nearly free or donations-only or recommended concert listings
Anticipation is half the fun. Time-challenged culture vultures (concert goers and connoisseurs of artistic indulgence) appreciate previews to help them decide on the right concert to attend. Listed below are events that are free or well worth attending. Linked below are programme notes I have compiled before the concert to help me make sense of what will be performed. I prepare these previews for the concerts in which I participate as a performer, composer, organiser, reviewer, or simply a member of the indulgent audience because I know somebody who is actively involved as a performer, composer, conductor, publicist, or organiser. Regretfully I am not always able to attend all concerts listed here.
If you would like to join my mailing list of selected concerts, please let me know who you are. If you would like to announce a forthcoming concert and invite me to attend, please e-mail me. Alternatively, check my events list which includes even more concerts not listed here! If you want to see me in concert, visit the Piano Guitar Duo site which contains concert dates throughout the Netherlands. Enjoy! ANNE
---
2008
Tuesday 23 September 2008 19:30 for 20:00 start
not classical -- but worth going to experience a cosy evening of self-expression
Singer songwriter Ben Arthur
in DeMeern, Utrecht,
House Concert hosted by Innerfireworks
Reservations required euro 7.50 includes drinks and food
---
Sorry! no announcements in Utrecht for I have been in London all summer!
---
Sunday 29 June 2008 Amsterdam
last day of Holland Festival
Sunday 29 June 2008 afternoon FREE
Cultural Sunday: World Festival, Juliana Park, Utrecht
Sunday 29 June 2008 from 14:00 to 16:00 FREE
Jeroen Snijder (piano) and Helene Michielsen (flute) at Wijkplaats, Lombok
more information
Sunday 15 June 2008 from 15:00 to 18:00
Monument House Concert Series present
A Midsummer Tea Concert with two intermissions for home-made cookies and cakes
Bach, Berio, Brahms, Chopin, Mozart, Ravel for violin, piano, and harp
programme notes
Thurs 5 June 2008 all day FREE
Chamber Music Marathon in 4 concerts beginning at 10:00, 13:15, 16:00 and 18:00
See schedule for details
Utrecht Conservatory, Mariaplaats 27
Mon 2 June 2008 @ 8 pm - 9 pm FREE
Final exam composition concert of Anne Ku, including premiere of 30-minute chamber opera "Culture Shock!"
Some of the best free concerts are the final exams at the conservatory where students present their best work. Visit Utrecht Conservatory final exam calendar for dates/times. Nearly all are held at Mariplaats 27 or 28, Utrecht - near the central station.
---
Sat 19 April 2008 evening FREE
Holland Casino Pop Awards, Holland Casino, Utrecht
Fri 18 April 2008 @ 8 pm
Kikker Theatre presents new compositions
by students of Utrecht Conservatory
Sat 12 April 2008 @ 8:15 pm
Klara Wurtz, pianist, Masters on Stage, Utrecht Conservatory
5 - 11 April 2008
De Onwankelbare opera, Utrecht
Fri 4 April 2008 @ 8:15 pm FREE
String Orchestra on period instruments performing works of Biber et al
De Lutherse Kerk, Hamburgerstraat 9, Utrecht
Sat 29 March 2008 from 10 am to 4 pm FREE
Open Day at Utrecht Conservatory
featuring classical music concerts in the main hall and jazz and pop concerts in K108
11:30 am - 12 noon violin, guitar, piano trio and more
Mariaplaats 27
Sat 15 March 2008 @ 8:15 pm
Masters on Stage: Martijn van den Hoek, piano solo cancelled!!!
Utrecht Conservatory, K&W concert hall
Mon 18 February 2008 @ 8 pm
Composition concert, Utrecht Conservatory
Fri 15 February 2008 @ 12:30 pm
Free lunch concert: new compositions
by Utrecht conservatory students under Jacob ter Veldhuis
Vredenburg Leeuwenberghkerk, Utrecht
---
2007
16, 17, 18, 19 December 2007
Hesse India, Indian karnatic opera - premiere 17th @ 8 pm
Rozentheatre, Amsterdam

Sunday 16 December 2007 @ 2:00 pm FREE with donations
Schubert's Winterreise
Lars Terray, baritone and Jeroen Snijder, pianist
De Wijkplaats, Kanaalstraat, Lombok, Utrecht
Sunday 9 December 2007 @ 2:30 pm FREE
Piano Guitar Duo Concert
De Meerpal, Vlaardingen
Saturday 1 December 2007 @ 8:15 pm
Paolo Giacometti, solo piano concert
Masters on Stage Concert Series, Utrecht Conservatory
K&W Building, Mariaplaats 27, Utrecht
Saturday 24 November 2007 @ 8 pm
Charlie! Charlie! a musical documentary in English and German
last flight of the Hindenburg
Jacobikerk, Utrecht
Saturday 17 November 2007 @ 8:30 pm
Saturday 17 November 2007 @ 3:30 pm (children welcome)
Friday 16 November 2007 @ 8:30 pm
Duo for Export benefit concerts Suggested donations 15 euro
Monument House Concert Series, Utrecht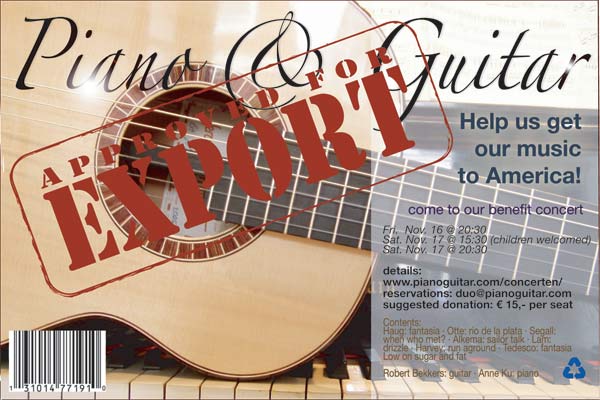 Sunday 28 October 2007 FREE
Afternoon concert of string ensemble, brass ensemble
Utrecht Conservatory, K&W Building, Mariaplaats 27
Saturday 13 October 2007 @ 8:15 pm
Alan Weiss, piano solo
beginning of Masters on Stage concert series of the celebrated piano faculty of Utrecht Conservatory
K&W Building, Mariaplaats 27, Utrecht
Sunday 7 October 2007 @11:30 am
CBK, Amsterdam
Piano Guitar Duo of Anne Ku and Robert Bekkers
Contemporary Programme including new works written in 2007
5 euros including cake
Thursday 4 October 2007 @ 8 pm
Amstel Saxophone Quartet presents new CD
Free concert of works by Fauré, Glazunov and Glass
Bethanienklooster, central Amsterdam (near train station)
Sunday 10 June 2007 at 3 pm
House Concert in Lombok, Utrecht
Piano students of Anne Ku (piano)
and special guest pianist/teacher Carol Ruiz Gandia
Live recording by Robert Bekkers
Saturday 9 June 2007 from 2 pm
Chamber Music Tapas Style
Monument House Concert Series, Utrecht
featuring Robert Bekkers, Pearl Mira Kwesi-John, Duo Pan, Anna Schweizer, Henk Alkema
Sangria and tapas served between the four different concerts
Programme, bio's, photos, guestbook
Saturday 2 June 2007
House Concert in Oog in Al
Four hands on one piano: Bach, Chopin, Debussy, Brahms, Ravel, and.... jazz!
Afternoon @ 4 pm for children, 3 euros
Evening @ 8:15 pm for adults, 10 euros includes glass of wine [plus violin, voice]
Chopinstraat 15, Utrecht
reservations: ecspits AT kpnplanet DOT nl
Monday 21 May 2007 @ 7:30 PM FREE
Opera premieres, Composition Concert including "Culture Shock!" by Anne Ku
inspired by the true story of a foreigner's experience in the Netherlands
K&W Concert Hall, Utrecht Conservatory,
Mariaplaats 27, walking distance from Utrecht Centraal train station
17, 18, 19 April 2007 FREE
Karnatic Music and its Influence in Amsterdam
Amsterdam Conservatory, Bimhuis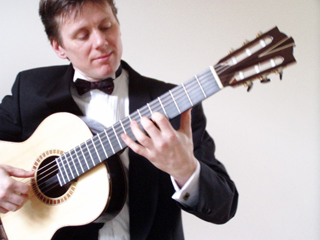 Tuesday 17 April 2007 @ 13:00 FREE
Robert Bekkers, guitar
Lunch time classical concert featuring works by Bach, Villa-Lobos, Piazzolla, Brouwer
Webster University in Leiden
Sunday 15 April 2007 at 3 pm (doors open 2 pm)
Robert Bekkers, guitar -- see invitation (1 page PDF - in Dutch)
Solo works including Bach's Chaconne, Piazzolla's Adios Nonino, Villa-Lobos, Brouwer
Inner Fireworks House Concert Series, De Meern/Utrecht
Organised by Emily and Paulus of Innerfireworks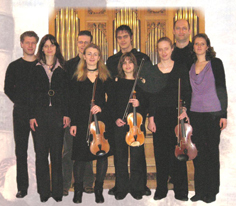 Friday 6 April @ 15:45 and Saturday 7 April 2007@ 14:00 Utrecht FREE
Stabat Mater of Pergolesi
On early instruments
FREE afternoon concerts at Parochie Doper-Bernardus and Pieterskerk, Utrecht
Sunday 1 April 2007 @ 15:15 FREE
Karamazov String Quartet
Haydn op. 20 no. 2, Beethoven op. 18 no. 3, Shostakovich no. 10 op. 118
Engelse Kerk (English Church), Amsterdam
Thursday 29 March 2007 @ 7:30 PM FREE
Stabat Mater of Pergolesi
Utrecht Conservatory Mariaplaats 28, Chapel
Sunday 25 March 2007 all afternoon in central Utrecht FREE
Cultural Sunday (once a month in Utrecht)
11:15 - 12:00 Brahms 4th symphony, K&W Concert Hall, Mariaplaats 27
12:15 - 13:00 & 13:30 - 14:15 Film Music, Academiegebouw, Aula
Workshops for percussion, streetdance, yoga, etc
Saturday 24 March 2007 @14:30 and 16:30 Adults 2 euros, Children 1 euro
Student Ensemble Recital (7 to 18 years of age),
premiere of "Squeezing 8 Hands" - 5 pianists on one piano, new work by Anne Ku
Organised by teachers of Het Wilde Western for their students in Utrecht
de Wijkplaats, formerly Vredeskerk at Johannes Camphuysstraat 101 in Lombok
Friday 23 March 2007 from 9:30 am to 6:30 pm FREE
Music and rhetorics
Seminar and Concerts
Utrecht Conservatory, Mariaplaats 27, Utrecht
Tuesday 20 March 2007 @ 7:30 pm FREE
Films for the Blind: "C'est la Vie"
The Unseen Movie Project
Utrecht Conservatorium, K&W Building room K108
Mariaplaats 27, Utrecht
Sunday 18 March 2007 @ 16:00
Utrecht Conservatory chamber orchestra conducted by Otto Tausk
Mozart piano concerto, Ravel Ma Mere Oyle, Arvo Pärt Fratres, Dawid Boverhoff Essay for Orchestra (premiere)
Amstelkerk, Amsterdam
Saturday 17 March 2007 @ 14:30 FREE
Joint concert of the Leiden English Choir and Alyth Choral Society from London.
Music by Vaughan Williams, Dawes, Parry, Purcell, Handel besides Jewish, Danish and Estonian music.
Pieterskerk, Leiden
Source: Roundabout.nl newsletter by email
Friday 16 March 2007 @ 20:00 Delft
Concert featuring Erik Tempelman and ensemble and others
Concerto V for flute, two violins and basso continuo by Francesco Mancini
Trio op. 9 No. 3 for flute, violin and guitar by Ferdinando Carulli
Lachrimae Antiquae for two flutes, two violins, viola da gamba and guitar by John Dowland
Vrije Akademie in Delft
Tuesdays in March 2007 @ 17:15 Leiden, FREE
6, 20, 27 March @ 17:15
Old University Library, Rapenburg 70,
Univeresity of Leiden
Friday 9 March 2007 @ 20:15
Aria Balsamica, La Flûte Passionnelle, guitar and flute (works by Piazzolla)
featuring Robert Bekkers
Ichthuskerk, Kerkweg 34 te Lekkerkerk
Thursday 8 March 2007
Sharon Bisquet, singer -- see invitation (1 page PDF)
House Concert, De Meern
Organised by Emily and Paulus of Innerfireworks
Sunday 4 March 2007 @15:00 Amsterdam, FREE
Lyn Parker, new UK ambassador to Netherlands speaks on "English Music"
Amsterdam Apollo Hotel
Information and reservations required.
Wednesday 28 February 2007 @ 19:30 FREE
Early music string orchestra performs
JS Bach's Brandenburg Concerto no. 3
Mozart's Eine Kleine Nacht Musik
K&W Concert Hall of Utrecht Conservatory
Mariaplatts 27, Utrecht
Saturday 24 February 2007
Premiere of interludes "Echoes from the Past" for recorders and Baroque violin by Anne Ku,
E-Live Concerts in the spacious and over-reverberating Nicolaikerk, Utrecht
20:30
Friday 16 February 2007 at 12:30 pm
Free Lunchtime Concert of Netherlands Music Day (Weekend)
Premiere of new ensemble works, including "All Tuned Out" by Anne Ku
Vredenburg, Utrecht
Monday 29 January 2007 Utrecht at 8:15 pm
Premiere of new works for ensemble and works of
David Dramm, composer in residence at Utrecht Conservatory
Vredenburg Great Hall (seats 2,000) next to Utrecht Centraal train station
FREE TICKETS FROM ANNE
---
2006
Sunday 17 December 2006 Utrecht
"Piano as Orkest" The Piano as Orchestra
Monument house concert series
featuring guitar concerto, new euphonium concerto by Henk Alkema, and Henriette Renie's famous Harp Concerto
Reservations required.
Sunday 10 December 2006 Utrecht
Morning piano concert - students of Anne Ku
By invitation only
Saturday 25 November 2006 from 2 - 3 pm FREE
Piano Guitar Duo of Robert Bekkers and Anne Ku
Utrecht Public Library - 3rd floor Music section
Monday 20 November 2006 from 7:30 pm Utrecht FREE
Composition Concert
K&W Concert Hall at Mariaplaats 27, Utrecht
premiere of new works, including
KYRIE for choir; Fantasia and Modulo 12 for piano solo by Anne Ku
Saturday 11 November 2006
House Concert - Russian Fairytales by EVGENI MIKHAILOV
7:45 pm by reservation only Euro 14
Weesperveste 65 3432 AG Nieuwegein near Utrecht
Details: Nieuwegein Piano Group
Tuesday 24 October 2006 from 4 to 5:30 pm Utrecht
New Music for the Harpsichord
free talk and performance
Elaine Funaro on contemporary music for the harpsichord
to an audience of composers, harpsichordists, and anyone interested in new music
1- page PDF Mariaplaats 27, Utrecht Conservatorium, Room K310
There is a place in Amsterdam, I think it's on Herengracht, a ground floor flat where I attended my first house concert in the Netherlands. The owners, a middle-aged Dutch couple, regularly organised house concerts under their double-height ceilings with their stackable chairs and grand piano. The late American composer and pianist Robert Avalon had invited me to that concert in which he had also performed. It was also the first house concert I attended with the Dutch guitarist Robert Bekkers, with whom I now have a piano guitar duo and a life together. We produced many house concerts in London in my compact Victorian cottage. This year (2006) we bought and restored a turn-of-the-century monument house next to a canal for the purposes of holding house concerts, accommodating musicians and scholars from abroad, and recording our music.
---
Wednesday 4 October 2006 Utrecht
Harp Recital of Maria Goudimov
solo pieces and Harp Concerto by H. Renie, with Anne Ku, piano
Utrecht Conservatorium concert hall, Mariaplaats 27
7 pm
Sunday 2 July 2006 Utrecht 2 to 4 pm
Monument House Concert,
Music of the Americas, introducing world-class Duo46 violin and guitar
with catering by "Piece of Cake" of Wassenaar
Details and reservations essential.
PHOTOS by Marco van Lieshout, an enthusiastic supporter
Saturday 1st July 2006 Utrecht
Classical guitar masterclasses with Dr Matt Gould of Duo46
10 am to 4 pm with lunch break and refreshments.
Participants 40 euros; Observers 20 euros;
Participants' guests 6 euros.
Details and reservations.
Thursday 6th April 2006 Utrecht - free
7 pm Opera Extracts Concert
Students of Eugenie Diteweg perform Handel, Vivaldi, Paisiello, Carissimi, Schwartz, Rossini, Thomas, and Mozart
Friday 7th April 2006 Utrecht - free
7 pm French songs from Romantic era
Students of Henny Diemer
Saturday 8th April 2006 Utrecht, Overste den Oudenlaan 2, next to Jaarbeurs near Utrecht Central Station
7:30 pm Pop and Jazz - finalists for Holland Casino Award - euro 5,000 - free entry. 18-years and above. DJ
Thursday 13th April 2006 Utrecht
Lunchtime Concert 12:30 pm
Maria Goudimov, harpist
CPE Bach (1714-1788) Sonate in G major (Adagio un poco, Allegro, Allegro)
Domenico Scarlatti (1685-1757) Sonate in f moll, K466
Elena Walter Kune (??) Fantasy on themes from "Eugene Onegin"
Henriette Renie (1875-1956) "Ballade Fantastique"
H. Renie Concerto in c minor for harp and orchestra: 3rd mouvement (Allegro con fuoco) - Anne Ku, piano
Saturday 1st April 2006 Utrecht
HKU - Utrecht Conservatory Open Day - free concerts (PDF link) from 11 am to 3 pm NONSTOP!

Friday 17th March 7 pm Utrecht
Composers Concert at Concert Hall of K&W Building 27 Mariaplaats, featuring new works by composition students at Utrechts Conservatorium, including premiere of mini-opera "The Jetsetter" by Anne Ku for mezzo soprano, harpsichord, recorder, violin, and cello. "Finally an opportunity to put a jetsetter's life into music ...... "

Sunday 12 March 2006 at 3 pm Utrecht
Orchestra Concert, Vredenburg Utrecht, De Vlakte by Dutch composer Tom Dicke, Dawid Boverwoff's arrangement of four songs by Schubert for orchestra and solo singers, Beethoven's 6th symphony The Pastoral or Pastorale
Friday 30 May 2003 London
Piano Guitar Duo double concert followed by Asian Fusion Banquet catered and sponsored by Yun Kim's Oriental Fusion Restaurant - free entry
FREE CONCERTS IN NETHERLANDS - no booking required, just go early to get a good seat
Every Tuesday 12:30 lunch concert on historical instruments in the chapel of Utrecht Conservatory - Mariaplaats 28, 3511LL Utrecht
Every Tuesday 12:30 lunch concert in the Amsterdam Music Theatre (Muziektheater) just above Waterlooplein metro station
Every Wednesday 12:30 pm lunch concert in Concertgebouw Amsterdam (Museumplein)
Every Friday 12:30 pm lunch concert in Vredenburg, Utrecht (exit from Utrecht Centraal station)
Every Saturday 3:30 pm in the Domkerk (Dome Church), Utrecht
Nearly every Friday at the Bethanieklooster in the red light district of (central) Amsterdam
Regular concerts at any of the eleven conservatories in the Netherlands such as the Royal Conservatory in the Hague, Amsterdam Conservatory, Rotterdam Conservatory, Utrecht Conservatory all of which are close to the central train stations of the cities
Free events or next to nothing in Amsterdam, if you can read Dutch
Numerous free concerts in churches, museums, schools, etc just search for "gratis concert" or "toegang gratis" and the city/town
NEW COMPILATION! of concerts and venues in the Netherlands by Otto Vervaart, a specialist in Utrecht
Not necessarily free
If you know of other free (or nearly free) concerts that occur regularly, please contact Anne Ku.
Related links:
Contact Anne using this form.
Return to home page