Concert photos taken by
Marco van Lieshout, a generous supporter
Concert photos by German Delgado (forthcoming)
50 seats only!
Please reserve your seat using this booking form or confirm your attendance directly with the organisers.
15 euros to be paid in advance or at door, includes refreshments during intermission.
Student discount to 7 euros.
Catering by "Piece of Cake" of Wassenaar.
Autographed CD's of Duo46 available at the concert.
FLYER (1 page PDF) - feel free to distribute.
Venue:
National Monument House
Keulsekade 25
3531 JX Utrecht
The Netherlands
Directions:
10 minute cycle ride or bus number 4 direction of "Cartesiusweg" from Utrecht Centraal train/bus/tram station to stop at "Laan van Nieuw Guinea". Free parking next to canal. Minutes from A2 motorway at "Oog in Al" exit. Use Routenet.nl for map.
About Keulsekade:
Dutch guitarist Robert Bekkers and writer/pianist Anne Ku restored this turn-of-the century monument house to share intimate chamber music concerts with the public. Located next to a peaceful canal in the multi-cultural neighbourhood of Lombok, this 8 by 8 metre house features 3.15 metre high ceiings, oak parquet floor, and a 1909 New York Steinway model A (188 cm).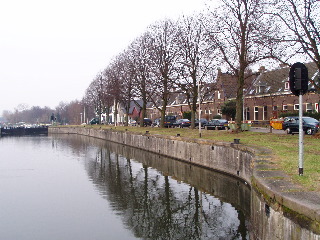 House concerts and other related links:
No Place like Home, Daily Post, 10 July 2006
Move the furniture, the band is here, article in the New York Times, 21 May 2006
House concerts sweeping the US, article in the New York Times, 2003
What is a house concert? as defined by the Canadians
House concert circuit in the UK - The Acoustic Routes Guide to House Concerts
analyticalQ presents house concerts in London
Organising concerts, soirees, and parties - 2 page pdf
If Music is the Food of Love, play on - 2 page pdf
Accommodation for visiting artists and scholars in Utrecht
SIMBAS - International Directory of Libraries and Museums of the Performing Arts
House Concert
Sunday 2 July 2006
2 pm
Utrecht
Netherlands
introducing Duo46
Dr Matt Gould, guitar
Beth Ilana Schneider, violin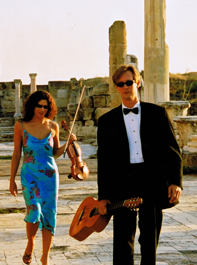 Music of the Americas
Piazzolla, Beaser, Segall, and
extracts from their latest CD, "Aires de Sefarad" featuring
46 Spanish Songs for Violin and Guitar by Jorge Liderman on Albany Records
Where does the name Duo46 come from?
Hint: 46 strings or less?
| | |
| --- | --- |
| | Matt Gould has been described as a "guitarist capable of giving performances of great beauty, enthusiasm and control" by EMI recording artist and former teacher, Manuel Barrueco. Equally versed in the traditional and modern literature, he has performed on three continents as both soloist and with his violin and guitar ensemble Duo46. With over seventy commissioned works to date and two critically acclaimed new music recordings, Dr. Gould ... [continued on Duo46 website.] |
| | Beth Schneider-Gould made her soloist debut at the age of 16 with the Cincinnati Symphony Orchestra. She has performed throughout the United States including the Kennedy Center and Carnegie Hall, and has toured Europe with Sir George Solti and the Schleswig Holstein Festival Orchestra. She has performed chamber music with many renowned artists including Lynn Harrell and Yefim Bronfman, has worked under conductors such as David Zinman, Neeme Jarvi, Simon Rattle, Kurt Masur, Leonard Slatkin and Christoph Dohnanyi, and ... [continued on Duo46 website.] |
---
"Fiery performances" Gramophone
"Virtuosic and flamboyant" The Strad
"Compelling and musical" Soundboard Magazine
"Great energy and rhythmic control" American Record Guide
---
Extract from CHAMBER MUSIC AMERICA August 2003 Member Spotlight: Beth Schneider
When I met guitarist Matt Gould in the fall of 1994, we were both teaching assistants at the University of Arizona in Tucson. One afternoon, after playing through some 19th-century repertoire and discussing the experience over coffee and sushi, we established Duo46. We chose that name because the combined number of strings on a violin and a guitar is 46.
After playing together for awhile, we ran out of repertoire. We asked a couple of graduate composition students to write a piece for us. When they agreed, our "commissioning project" was born.
To date, we have commissioned over 30 works, with many more dedicated to us. Simultaneous to our commissioning project, we began researching and documenting 20th-century violin and guitar works. How shocked we were to learn we were so wrong about running out of music to play! As of this writing, we have discovered over 400 original works and have begun recording them with our debut CD FM1: Homage to the 50's on Guitar Plus Records, featuring music from the 1950s.
In 1998, we participated in "Music 98," a festival at the University of Cincinnati College Conservatory of Music that motivated us to continue our exploration and commissioning. We collaborated with a few composers from the festival, and approached many other American composers to write for us. The result of our efforts was a new disc on Summit Records, Untaming the Fury, that features ten of those American works.
In the following year, we saw an ad in Chamber Music magazine announcing fellowships to participate in the 1999 Great Lakes Chamber Music Festival in Michigan, applied, and were chosen as one of the invited ensembles. This was another valuable developmental experience and an opportunity for us to be coached by three great chamber musicians: Phil Setzer from the Emerson Quartet, Paul Katz from the Cleveland Quartet, and Henry Meyer from the Lasalle Quartet. We performed at several venues in the Detroit area to appreciative audiences, and were lucky enough to receive a great review from the Detroit Free Press.
During 2000, two life milestones occurred. First, we applied for faculty positions at Eastern Mediterranean University and we got the jobs! Second, before relocating to Famagusta, Cyprus in the Turkish Republic of Northern Cyprus (the setting for Shakespeare's Play, Othello), we were married in my hometown of Cincinnati, and honeymooned in Amsterdam enroute to Cyprus, the island of Aphrodite.
Living in Turkey with access to wonderful musicians and connections has provided Duo46 the opportunity to tour Europe and to establish Duo46 and Friends, a new project to further enrich chamber music that includes guitar. There are other benefits. The Mediterranean sea is bluer than you can imagine, the people are friendly, the 9,000 years of history is unbelievable, the local food is great, and the 14,000 diverse students and international faculty at the university are intriguing.
Shortly after arriving, we met former London Symphony Orchestra violist Peter Sulski, a Fulbright Fellow, on the Greek-side of the island. His position enabled him to act as a musical-liaison between the two sides of the divided island. Our collaboration with Peter is known as The Noné Trio (violin, guitar and viola) and premiered in 2001. We have since commissioned ten pieces, and recorded a more traditional CD with a few new works.