Monumenthuisconcert
Monument House Concert Series
DUO for EXPORT

Reservations by e-mail:

duo AT pianoguitar DOT com
Suggested donation: 15 euros to export piano guitar duo to America this December
Further contributions to support monument house concert series
Friday 16 November 2007 @ 20:30
with composers in attendance
Saturday 17 November 2007 @ 15:30
with guest performers Carol Ruiz Gandia (piano) and Naeon Kim (violin)
children welcome
Saturday 17 November 2007 @ 20:30

Doors open 30 minutes before concert, refreshments include coffee/tea/juices and snacks.
Evening concerts: wine will be served. Please stay afterwards for conversation.
45 min first half. Break. 30 min second half
after the concert: see REVIEWS
GIFT IDEAS: original monument house beer mugs for sale at 10 euros each
FILL IT UP WITH OUR OWN HOME BREWED BEER!!!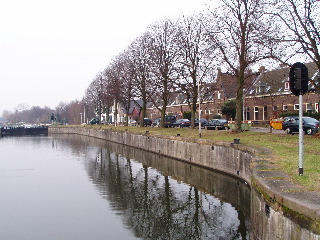 About Monument House Concert Series:
The newly restored monument house at Keulsekade 25, Utrecht, off Groeneweg, near "Utrecht Centraal" station and A2 motorway (Oog in Al exit), was built by the Dutch National Water Board for its employees in 1903. With a breathtaking view of the peaceful canal between Lombok and Oog in Al, the three-storey house offers a restored Steinway Grand Piano (188 cm, model A New York 1909) and excellent acoustics with its high ceilings and centrally-heated oak floors, as demonstrated by a guitar violin duo house concert, guitar masterclass, piano as orchestra house concert, and a showcase of violin, viola, cello, harp, piano, and voice in Summer 2006. Since then, numerous musicians from the Netherlands and abroad have enquired about performing and recording here.
Collaborators and sponsors are actively sought for future concerts. This is a nonsmoking venue. with front and back gardens and free canal-side parking under the shade of the 100-year old linden trees.
PRESS tickets available for editorial coverage and interviews.

Please enquire for collaboration and sponsorship opportunities.
Previous concerts at the Monument House have included Chamber Music Tapas Style,
Piano as Orchestra, and
Music of the Americas
Support this concert:
Spend a "gezellig" Christmas and/or New Year
in the Monument House
Address & Directions:
Keulsekade 25, 3531JX Utrecht
By car: A2 exit Oog in Al FREE PARKING
By bus number 4 direction Cartesiusweg/Lombok
from Utrecht Central Train Station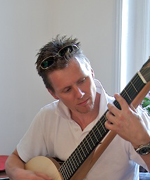 A graduate of the Conservatory of Maastricht, Robert Bekkers also studied contemporary music with Angelo Gilardino in Italy. While accompanying flamenco dance classes, Bekkers formed the group "IMPETU" consisting of 9 musicians and dancers, mixing flamenco and classical music. He has toured with Serenata Mexicana, Amstel Guitar Quartet, and Berdien Stenberg Orchestra. Since 2001, he and pianist Anne Ku have taken their Piano Guitar Duo to London, North Cyprus, Cape Town, Italy, and throughout the Netherlands. Active as a soloist and ensemble musician, Robert plays a 2005 Jeroen Hilhorst concert guitar, custom-made for the duo. His performance engagements are listed on his website at http://www.dutchguitar.com
Monument House Concert Series was founded in June 2006, out of the desire of Robert Bekkers and Anne Ku to share their private space and musicians network with others. The American violin and guitar Duo46 were the first to perform in the Monument House Concert Series in July 2006. Since then, numerous musicians have brought their instruments (violin, cello, harp, recorder, flute, voice, euphonium, and guitar) and shared their music with the audience.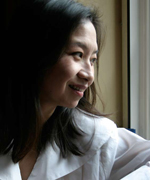 Born in Brunei of Chinese parents, Anne Ku studied piano under Betsy Hermann in Okinawa and Randall Love at Duke University. She began accompanying choirs from age 12, followed soon after by wedding engagements as pianist and organist. A graduate of London Business School, she brings her passion for organising thematic house concerts from Houston and London to the Netherlands. Anne is currently finishing her composition studies at Utrecht Conservatory while writing didactic music and educational articles for her private piano teaching practice. Her ensemble piece "All Tuned Out" performed at the Vredenburg concert hall in Utrecht was recently broadcasted on Dutch Radio 4. Her music, writings, event listings, and reader feedback can be accessed from her website at http://www.anneku.com
About PIANO GUITAR DUO
Anne Ku and Robert Bekkers formed their PIANO GUITAR DUO in 2001, reviving this almost forgotten tradition of music making. This once favourite pastime of bringing together performers, composers and enthusiastic audiences has left a largely untapped legacy of published music specifically written for the piano and guitar. Using modern instruments, the duo has already inspired original music for piano and guitar, expanding the existing repertoire with exciting new possibilities. more....