Ferdinando Carulli
(1770-1841)
Born in Naples of a distinguished literator, Carulli wrote more than 400 pieces for the guitar, amongst them several for piano and guitar.

Johann Nepomuk Hummel (1778-1837)
Son of a local musician in Pressburg (now Bratislava) and child prodigy pupil of Mozart, Hummel wrote the entertaining Pot-pourri for Guiliani and Beethoven.

Mauro Giuliani
(1781 - 1828)
The Italian guitar virtuoso stormed Viena, befriending Beethoven and Rossini, and became the established guitarist of the day. He composed many works for solo guitar and chamber music.

Johann Kaspar Mertz
(1806 - 1856)
Born in Pressburg (now Bratislava) and active in Viena, Mertz was a guitar virtuoso married to a concert pianist. He died before learning of winning first prize in a composition competition. There's a biennial music festival named after him.

Manuel Maria Ponce
(1882 - 1948)
The distinguished Mexican pianist and composer wrote far more works for guitar and piano than any other instrument. His Sonata was originally written for guitar and harpsichord.

Federico Moreno Torroba (1891-1982)
Born in Madrid of a well-known organist, Torroba brought the zarzuela (Spanish opera) tradition to the international stage. This sonata was initially written for solo guitar.

Mario Castelnuovo-Tedesco (1895-1968)
Born and raised in Tuscany, Tedesco began composing at age 9 and later escaped to America where he composed film music. He wrote many pieces for guitar, largely influenced by his friendship with Segovia.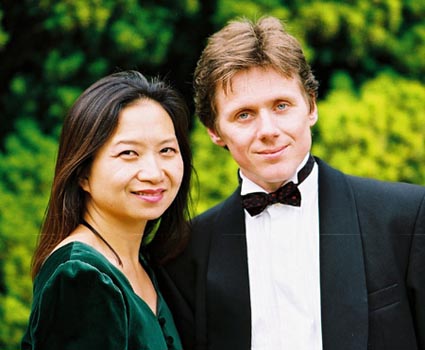 Photo credit: Anjam Ahmad, Walpole Park, London June 2002
NOTE: Please visit REPERTOIRE for more choices.

Piano Guitar Duo on youtube.com @ 9 July 2007

Recorded at Monument House in Utrecht, Netherlands

Anne Ku on Steinway New York, model A188, 1909

Robert Bekkers on
Jeroen Hilhorst Amsterdam concert guitar, 2005

Please click on "You Tube" to leave a comment.

J.S. Bach's Badinerie from Orchestral Suite No. 2
Torroba, Second movement of Sonatina
Tedesco: Fantasia 2nd movement
Amon: Rondo from Serenade opus 123 no. 1
Click on MENU (bottom right of youtube screen)







Gerald Schwertberger
(b. 1941 )
The Austrian composer and teacher Schwertberger originally wrote the four part "Happy Hour Sandwich" for a Japanese pianist and later re-arranged it for an Italian guitar piano duo. Several of the themes were previously used in his didactic books for piano, violin, and cello.

Erik Otte (b.1955)
Born in Leiden, Otte played the violin as a child but made his final choice for guitar at age 16. After graduating from the Royal Conservatory (The Hague) and the Conservatory of Rotterdam, he followed an international performance career before settling into composing for chamber music in recent years.

Allan Segall (b.1959)
Born in Brooklyn, New York, Segall grew up in Denver, Colorado, and has most recently served as Concert Director at the Engelse Kerk in Amsterdam where he lives. He received his Doctorate of Musical Arts from the University of Illinois at Urbana-Champaign.

Henk Alkema (b. 1944)
Born in Harlingen, Henk Alkema has served on numerous faculties in the Netherlands and the USA. He has conducted nearly all professional symphony orchestras in The Netherlands and has earlier toured as a jazz pianist, composer, arranger, and studio pianist for Dutch Radio and TV.

Lan Chee Lam (b. 1982)
Born in Hong Kong, Lan Chee Lam's music often combines traditional Chinese and contemporary Western techniques, exploring new dimensions of the sound world. Her works have been performed in Hong Kong, Canada, United States and Italy. She is currently pursuing a DMA at University of Toronto.