House for rent in Utrecht, The Netherlands
1903 Monument House in Lombok, near Utrecht Station
next to a peaceful canal (lock), exactly halfway between the A2 motorway on the west and the central Utrecht station
Last update: 7 July 2012
Nonsmokers only. No outdoor shoes in house. No pets. No children.
Yes! You can register here.
Originally built by the Dutch National Water Board for its employees to build and manage the lock on the canal that runs from the Amsterdamrijn Canal (which connects the Amstel to the Rhine), this row of houses each 8 x 8 metres (except for the middle one 16 x 8 metres) was awarded national monument status when it reached 100 years old.
We, a married classical musician couple, bought the house in January 2006 and renovated to a high standard (raising the ceilings and installing parquet oak floors for better acoustics) and have used it for music practice, lessons, rehearsals, and concerts --- namely, the Monument House Concert Series. Over the years, visitors from many parts of the world have stayed with us and supported our dream, as artists in residence, to exchange culture and ideas. Now it's our turn to travel abroad.
We are renting out furnished rooms in the house, different sizes, but each with a comfortable bed and mattress, desk, chair, wardrobe (closet), book case or shelves, and mirror. We want to have a peace of mind, hence renting out the rooms for the entire time we are away (academic year).
Here are the rooms:
Monument House (the main house): 5 rooms sharing 1 bathroom with shower & bath tub, 2 toilets, 2 kitchens
ground floor - piano room (largest room, high ceilings) (rented)
middle floor - 3 rooms: canal view room (2 windows, 12 sq metre), big room with double bed (rented), small room (10+ sq metres) (rented)
top floor - loft room (attic)
Garden House (behind the house): closed while we are away for the year.
For nonsmokers who are amenable to sharing the bathroom, toilet, and kitchens
Ideal for guests with dietary restrictions who need to make their own meals, e.g. vegan, vegetarian, food allergies
5 to 10 min to "Utrecht Centraal" train/bus/tram station by any of 9 different busses or bicycle, 10-15 minutes by foot
20 to 35 min by bus or bicycle to Utrecht University "de Uithof"
Secure high speed (wireless) internet access
New (less than 1 year old) washing machine and dryer --- but we prefer you hang dry your clothes to save energy and time
Equipped kitchenette on middle floor
Full kitchen on ground floor
Wooden floors (no carpet) - floor heating ground floor!
Parking is no longer free from April 2011, Monday - Saturday 9 am to 9 pm. € 2.29 per hour or €16.50 per day. We can give a code for 50% discount.
Breath-taking view of the peaceful canals, yet close to shops and public transport
Rent a bicycle or scooter by the day or week from our friendly neighbours Ton van den Ijssel
The front of the house -- view of the peaceful canal
The ground floor: front hall way, living room, kitchen, piano room, toilet, back hallway to garden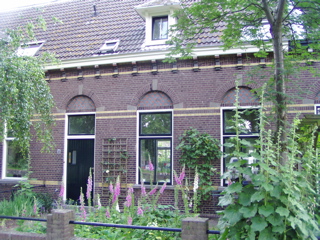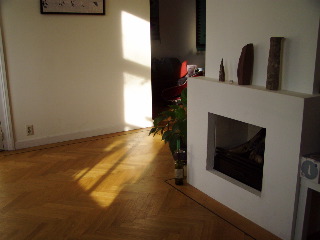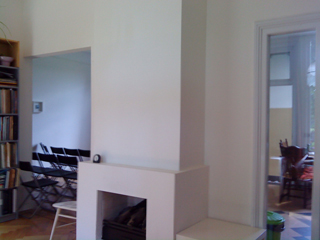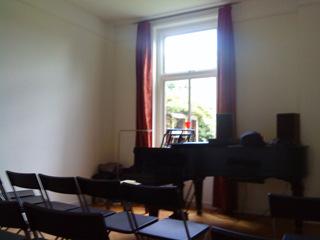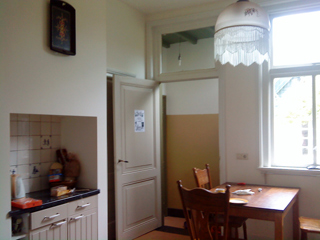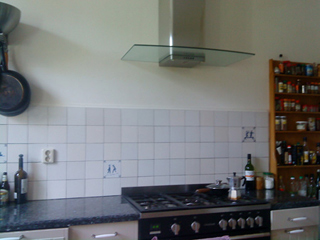 The middle floor: 3 rooms + toilet + bathroom + kitchenette
Some of the international artists that have stayed in these rooms are pianists Nathanael May, Brendan Kinsella, and Vitaly Pisarenko.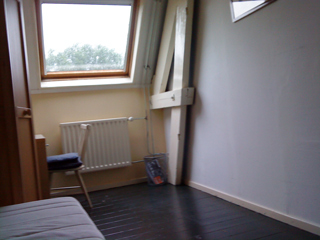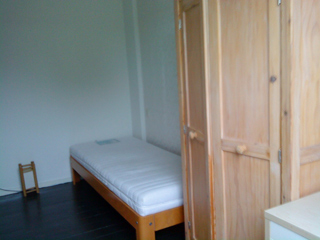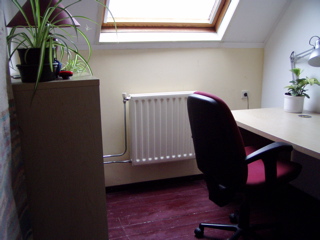 The top floor - the loft (attic) room -- newly painted and installed in August 2011. Take the video tour.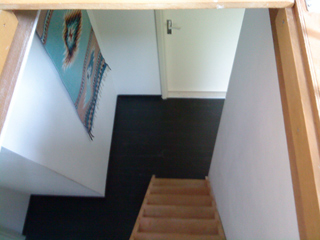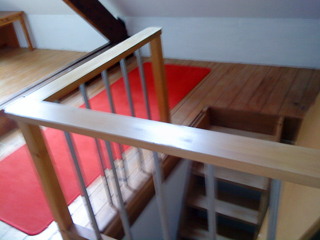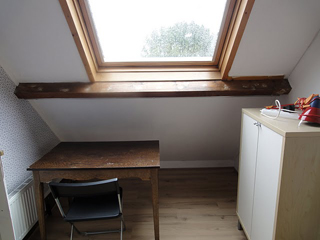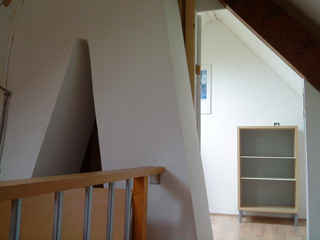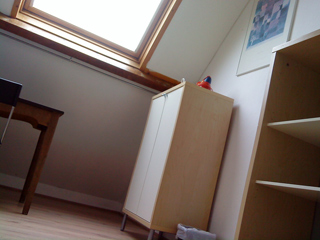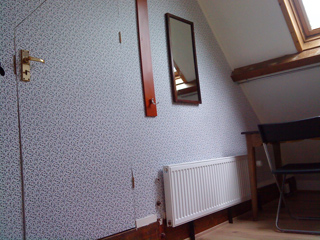 We believe in a clean, harmonious and serene living environment, free of smoke (no smoking), free of dirt from outside (no shoes), and free of the distracting noise of radio/TV.
All nationalities are welcome to enquire about staying in this unique and convenient location. The upstairs kitchenette is not catered for heavy-duty cooking due to limited ventillation. That is, we prefer if you don't deep fry or cook heavy meals (that cause a lot of smoke) in the kitchenette on the middle floor.
Due to allergies to dust and other elements, there is strictly no smoking or shoes inside the house (also to keep it quiet on the wooden floors). No pets. Basically we maintain a dust-free, allergy-free, smoke-free, noise-free environment ideal for one who needs a place to recuperate from the daily demands of life. This is a beautiful area with breathtaking views of the water. In winters when the water freezes, it's a Dutch tradition to go ice skating on the canals.
The newly renovated rooms, all with slanted double-glazed roof windows and own thermostat-controlled radiators for central heating; floor heating on ground floor. The rooms are furnished with the most comfortable Auping beds, mirrors, IKEA desks, wardrobes, and bookcases. For the very short-term (i.e. weekly basis), bed linen, pillows, duvets, and towels can be provided. In the warm months, we ask that you dry your laundry on racks (not by the drier).
We have been hosting artists through our Monument House Concert Series since 2006. Our home is also ideal for visiting scholars, postgraduate or postdoc, exchange student, working professional, commuter, conference delegates (nearby Jaarbeurs), and short-term vacationers.
ABOUT UTRECHT
Founded by the Romans some 2,000 years ago, the fourth largest city in the Netherlands, Utrecht is also home to the largest university and oldest conservatory, and hailed as the centre of the country with major train lines linking the north to the south, east to the west, to Belgium, France, Luxembourg, and Germany. As creative capital, it is known for the many music festivals, including Cultural Sunday once a month and the Utrecht Early Music Festival each summer. The average age of Utrecht residents is between 15 and 45, with a young population of 60,000 students.
West of the famous Utrecht Dome, the highest tower in Holland, our turn-of-the-century monument house looks onto to a peaceful canal, just minutes from the A2 motorway (to Amsterdam and elsewhere), with 9 direct busses to Utrecht Centraal train/bus/tram station through multi-cultural Lombok (5 min), a very pleasant cycle ride along canals (5 min to central station), and 20 minute direct cycle ride to University of Utrecht (de Uithof).
Lombok is probably Utrecht's most ethnically diverse area --- famous nationally in the 1990's for being the first successful integrated multi-cultural neighbhourhood in the Netherlands. Just across the canal in the famous Oog in Al park is the local library. There are wonderful jogging and cycling paths along the canals to the nearby swimming pool. There's a sports club on the opposite side of the canal where you can get a short-term pass to attend aerobics, pilates, spinning, skateboarding classes and/or use exercise machines. The nearby Kanaalstraat (canal street) is famous for fresh fruit and vegetables, freshly baked bread of Turkish bakeries as well as exotic spices from the Middle East. The supermarkets Nettorama and Aldi are within 1 minute walk away. The cycle shop behind the house offers to buy back the bicycles you buy from them.
---
Please e-mail us with a short self-introduction, your age, purpose of moving to Utrecht, your budget, your interests and hobbies, and consideration for the environment and cleanliness.
We will then contact you. We will need to see proof of your studies or work contract and income (i.e. ability to pay the rent). We take a deposit upon confirmation and agreement of the reservation -- one page rental agreement which you can use to register the address here. Euros, USD-equivalent, and STG-equivalent accepted by transfer to Dutch bank (euros), UK bank (sterling pounds), or US bank or US cheque (US dollars). Directions to the Monument House.
Contact us on FACEBOOK. Follow us on TWITTER. Read about us on Concertblog.
Spring is the best time to visit the Netherlands, for the biggest outdoor party on Queen's Birthday (30th April every year) everywhere in the country and to view the flowers in our garden.
Also listed on Self-Catering Breaks, Sabbatical Homes, and Digsville Home Exchange
---
******Absolutely no smoking allowed inside the house, in the gardens, or anywhere on the property. See the two page write-up (PDF).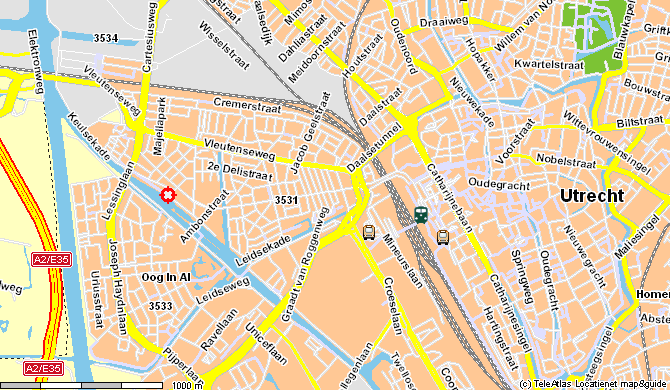 Useful information / articles about Utrecht:
Useful articles about house-hunting in the Netherlands or moving there:
Websites to help you look for accommodation:
Just plain useful:
Read what our previous international guests have written about staying here: guestbook comments