Classical Concert Listing in the Netherlands
event listing and previews of concerts and music-related events in the Netherlands in English
free or nearly free or donations-only or highly recommended concert listings
Last updated on 30 June 2011
2011
BREAKING NEWS -- piano concerts 1st and 2nd July at Monument House Utrecht
Pre-concert dinner Andalucian; Vietnamese; American pianists; raffle prizes; silent auction and more
€ 18 for pre-concert dinner + € 12 for concert + glass of organic wine. RESERVATIONS REQUIRED.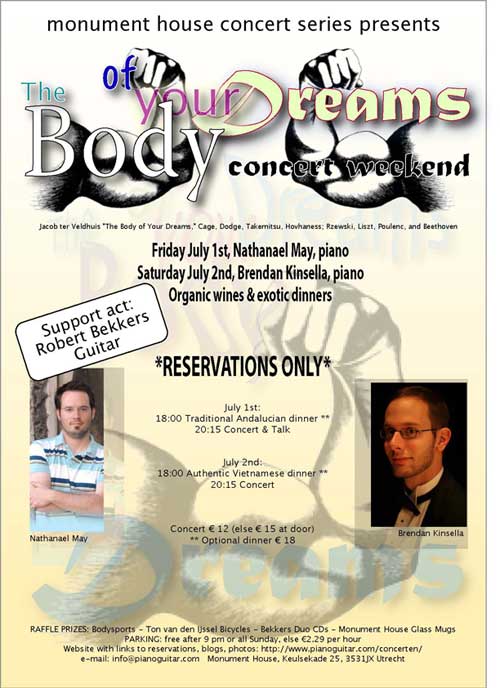 2010
Please scroll down to see regular free concerts in Amsterdam and Utrecht. Twitter blogmaiden if you know of free concerts.
BLOG: Next stop: Utrecht open for art music, 17 February 2010
BLOG: Access to the culture without knowing the language, 18 February 2010
Sunday 19 September 2010 @ NOON FREE
Bekkers Piano Guitar Duo
Oosterkerk, Amsterdam
CONCERTBLOG: Concert in Oosterkerk, Amsterdam
Sunday 12 September 2010 FREE
The Utrecht Uitfeest with outdoor opera on the Oudegracht at 12 noon
Auto-free day
Saturday 11 September 2010 FREE CONCERTS
Open Monument Day - throughout the Netherlands and Europe
monumental buildings (including museums) open and free to the public
---
Sunday 23 May 2010 doors open 14:00
Glass Vase Concert supporting young musicians
Monument House Concert Series
Keulsekade 25, Utrecht Netherlnads
Tuesday 4 May 2010 Provinciehuis,'s-Hertogenbosch FREE
Memorial Concert, International Vocal Competition
Saturday 17 April 2010 from 20:00
15 euros advance reservation & prepayment
Potpourri house concert
Bekkers Piano Guitar Duo + art + food + drinks
in two houses on Leidsekade near the MUNT, Utrecht
15 - 25 April 2010
Young Pianist Foundation Competition
Muziekgebouw aan't Ij, Amsterdam
Sunday 7 February 2010 Utrecht
Cultural Sunday: free events throughout the city
Thursday 14 January 2010 from 20:00 to 21:00
10 euros at entrance;5 euros for those under 18
Luistercursus: 9 componisten - Schubert
Listening course (lecture/recital): 9 composers - Schubert
Beethoven 4 Feb, Chopin 4 March, Brahms 8 April, Schumann 29 April, Bach 3 June
Jeroen Snijder, pianist and piano teacher
De Wijkplaats, Lombok Utrecht
---
This is a free service for all those who are trying to navigate the live (classical) music scene in the Netherlands. [Note: The Dutch easily use Holland instead of Netherlands, and won't get offended if you say Holland. However some would want you to know that there are other provinces besides North and South Holland, totalling 12 in all.]
Nowadays I mainly get press tickets to review opera, international competitions, and music festivals. See my reviews. I write about the concert-going experience to get more people to go to concerts. If you have a concert you'd like me to consider attending and writing a review, please contact me directly. Editor, Le Bon Journal
Anticipation is half the fun. Time-challenged culture vultures (concert goers and connoisseurs of artistic indulgence) appreciate previews to help them decide on the right concert to attend. Listed below are events that are free or well worth attending. Linked below are programme notes I have compiled before the concert to help me make sense of what will be performed. I prepare these previews for the concerts in which I participate as a performer, composer, organiser, reviewer, or simply a member of the indulgent audience because I know somebody who is actively involved as a performer, composer, conductor, publicist, or organiser. Regretfully I am not always able to attend all concerts listed here.
If you would like to join my mailing list of selected concerts, please let me know who you are. I regularly get invitations to concerts, lecture-recitals, symposiums, seminars, competitions, and festivals --- and often send them to individuals I know would enjoy such events.
If you would like to announce a forthcoming concert and invite me to attend, please e-mail me. Alternatively, check my events list which includes even more concerts not listed here! If you want to see me in concert, visit the Piano Guitar Duo site which contains concert dates throughout the Netherlands. Enjoy! ANNE
New blog about performances in the Netherlands and elsewhere: CONCERTBLOG
2009
Sunday 13 December 2009 16:30 for 17:00 start
Afternoon a la Rus: Russian harpist on concert harp
Music of Glinka, Eugene Onegin,....
House Concert in Lombok
€15 includes cakes, pies, refreshments and Monument House GLASS MUG
115c JP Coenstraat, Utrecht (near central station)
Reservations and pre-payment required
More information (1 page PDF)
Sunday 13 December 2009 at 14:30
FLUTE GUITAR HOUSE CONCERT
€15 including snacks and drinks (€7.50 children 12 and under; students)
Robert Bekkers, guitar
Karen van Laar, flute
Music of Piazzolla, Castelnuovo-Tedesco, Giuliani, and Caliendo
Het Langhuis 16, Amersfoort Kattenbroek
Sunday 29 November 2009 at 15:00
David Lopez Corral, piano
Scarlatti, Bach, Mozart, Schubert, Bartok, Chopin
€8 One hour (no intermission)
Funen Park 125, 1018 AK Amsterdam
Reservation advised. Tel: 020 770 1458
Funen Concerts Art Productions
Saturday 3 October 2009
Derek Gripper in Utrecht: guitar masterclass, workshop, and solo concert with supporting acts
Photo exhibition of Liz Miller
€10 concert at 20:00; Masterclass participation €40, observer € 25 PDF invitation
Monument House Concert Series, Utrecht
Music of Amsterdam-based composer Joke Kegel:
Four concerts including Friday 25 September and FREE LUNCH concert on 3 December 2009 Amsterdam
Information in Dutch (PDF)
Sunday 20 September 2009 Noon
Free lunch concert: Piano Guitar Duo
Oosterkerk, Amsterdam
Sunday 13 September 2009 Utrecht Uitfeest
over 100 free performances in Utrecht
Saturday 12 September 2009 Open Monument Day
Free concerts in Utrecht (blog)
Guitar concerts - Guitarra Buena
August/Sept Early Music Festival, Utrecht
July European Cantat , Utrecht
Sunday 12 July 2009 at 15:00 (one hour) AMSTERDAM
21st century works for piano guitar duo
Composers will be present for this special programme
Funen Concerts Art Production, Amsterdam
8 euros reservations required
June Holland Festival, Amsterdam
Saturday 13 June 2009 Amsterdam 14:30 - 15:30 Euro 4 (includes coffee/tea)
Piano Guitar Duo: Rodrigo's guitar concerto for Segovia - Fantasia for a Gentleman (complete)
No reservations required. Near Amsterdam RAI station
More information: address, map link, English programme notes
Saturday 6 June 2009 Amsterdam 15:30 - 17:00 FREE
'Silence' Concert on Harp by Dutch Music Award Winner (2006) Gwyneth Wentink
Haarlemmerdijk 137 Amsterdam
Attendance is free but please do reserve by email or phone :020-6240205
More info in Dutch.
Friday 29 May 2009 at 16:00 FREE
Panel discussion in English:
How can new music reach a broader audience? Is it just a question of marketing and publicity, or does the question run deeper?
University of Amsterdam more info
Saturday 25 April 2009 at 14:30 Utrecht FREE
Piano concert at Utrecht Conservatory,
Main concert hall, K&W Building, Mariaplaats 27 Utrecht
Daniel Abrams, Opera for Piano: Variations on Ein Engel Leonora from Fidelio by Beethoven
Fantasia on Carl Maria von Weber's Der Freischutz Alan Weiss
---
There is a place in Amsterdam, I think it's on Herengracht, a ground floor flat where I attended my first house concert in the Netherlands. The owners, a middle-aged Dutch couple, regularly organised house concerts under their double-height ceilings with their stackable chairs and grand piano. The late American composer and pianist Robert Avalon had invited me to that concert in which he had also performed. It was also the first house concert I attended with the Dutch guitarist Robert Bekkers, with whom I now have a piano guitar duo and a life together. We produced many house concerts in London in my compact Victorian cottage. This year (2006) we bought and restored a turn-of-the-century monument house next to a canal for the purposes of holding house concerts, accommodating musicians and scholars from abroad, and recording our music.
FREE CONCERTS IN NETHERLANDS - no booking required, just go early to get a good seat
TWITTER: free Amsterdam, gratis in Utrecht
Listing of free concerts in Amsterdam
Every Tuesday 12:30 lunch concert on historical instruments in the chapel of Utrecht Conservatory - Mariaplaats 28, 3511LL Utrecht
Every Tuesday 12:30 lunch concert in the Amsterdam Music Theatre (Muziektheater) just above Waterlooplein metro station
Every Wednesday 12:30 pm lunch concert in Concertgebouw Amsterdam (Museumplein)
Every Friday 12:30 pm lunch concert in Vredenburg, Utrecht (exit from Utrecht Centraal station)
Every Saturday 3:30 pm in the Domkerk (Dome Church), Utrecht
Nearly every Friday at the Bethanieklooster in the red light district of (central) Amsterdam
Regular concerts at any of the eleven conservatories in the Netherlands such as the Royal Conservatory in the Hague, Amsterdam Conservatory, Rotterdam Conservatory, Utrecht Conservatory all of which are close to the central train stations of the cities
Free events or next to nothing in Amsterdam, if you can read Dutch
Numerous free concerts in churches, museums, schools, etc just search for "gratis concert" or "toegang gratis" and the city/town
Not necessarily free
If you know of other free (or nearly free) concerts that occur regularly, please contact Anne Ku.
Related links:
Return to home page