Henk Alkema
(b. 1944)
Born in Harlingen, Henk Alkema has served on numerous faculties in the Netherlands and the USA, most recently as head of composition at Utrecht Conservatory. He has written two full length operas, both available on CD.
He has conducted nearly all professional symphony orchestras in The Netherlands and has earlier toured as a jazz pianist, composer, arranger, and studio pianist for Dutch Radio and TV.
Sailor Talk was written for Anne Ku and Robert Bekkers in May 2007. It was premiered at the Cortona Contemporary Music Festival in July.
When sailors get drunk and try to carry on a conversation, they don't always talk about the same thing, as shown in the beginning of this piece. The guitar and the piano are on different wavelengths, so to speak. Eventually they might relate to each other and build in intensity.
Henk Alkema
Sailor Talk (2007)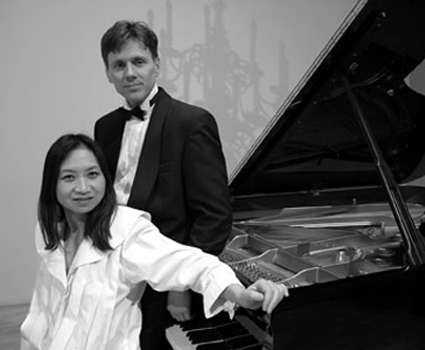 Photo credit: Serge van Empelen, Bethanienklooster, Amsterdam, March 2004