What they say:
"Thank you very much for the music CD of you and Robert, that was very nice. I listen to it a lot when I drive in the car and my daughter asks, "Who's that playing?" I tell her it's Daddy's friend, Anne. Since she's also taking piano lessons - and will have her first recital (believe or not, today) - she's impressed, maybe she'll keep up with it!"
--- Justin Wang, Palo Alto
"It is most enjoyable. The interweaving of piano and guitar is both intricate and fascinating."
--- John Morecroft, London
"Your CD is excellent and I find myself listening to often. Good Job and congratulations to you both. You guys are lucky to share your music and lives."
--- Rich Wyman, Park City
"I was delighted to get the CD. It was a fine repertoire impeccably performed. I enjoyed it tremendously. Congratulations! You make a great pair of performers!"
--- David Uerkvitz, Taichung, Taiwan
"Beautiful music: this CD does more than any other I know to put guitar-piano duets on the map."
--- Tyler Cowen, Virginia
"By the way, I never told you how much I loved the CD. I spent many hours listening to it as I drove along the gorgeous Croatian coast. Thanks!"
--- Jeff Abrams, Houston
"The Bekkers Piano Guitar Duo perform with vitality, freshness and joy creating a delightful and at times astonishing musical experience."
--- Joe Goldiamond, Rotterdam
"The CD is great. It played all day yesterday at our house. Beautiful music!"
--- Jim Collier, Amsterdam
"A piece of heaven!"
--- concert in Bussum
"Having experienced the duo's full repertoire, including their modern and classical programs, as well as their improvisational performances and their efforts as organizers of the Monument House Concert Series, it's apparent how much creative passion they bring to all endeavors. What a great thing for all of us that they've put that energy toward a collection of such interesting and widely unheard pieces as they have in this album."
--- Liz Miller
"Often people ask if piano and guitar are acoustically compatible. The duo has given a lot of attention to achieving the right balance. In the process, Anne has learned to play more softly and more sensitively to the guitar. Meanwhile Robert has developed a strong tone and direction in his playing. As a duo, Robert and Anne blend piano and guitar into one instrument."

Discography
LIVE CDs produced in Maui 2011: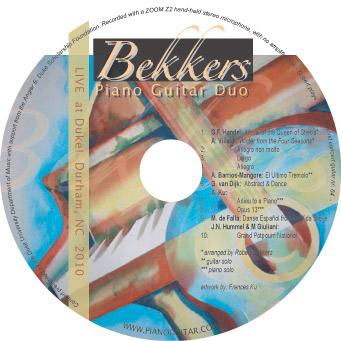 Bekkers Solo CD 2011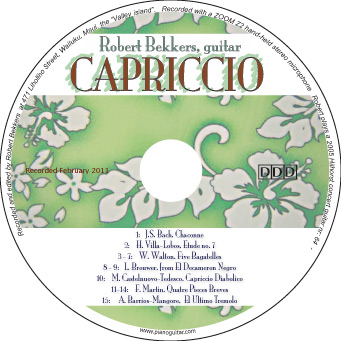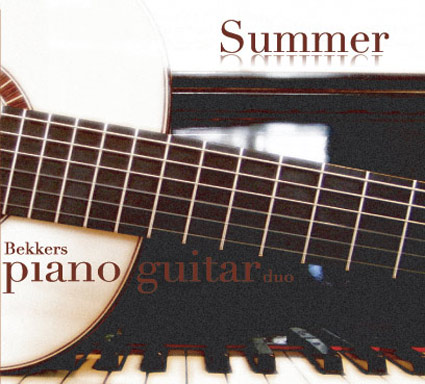 Bekkers Piano Guitar Duo first CD: Summer
recorded and produced in various locations in the Netherlands
Nearly 70 minutes of music
performed by Bekkers Piano Guitar Duo
on sale at all live concerts or direct from the Duo on request
Summer from The Four Seasons **
Antonio Vivaldi (1678 - 1741)
1 - Allegro non molto 5'40
2 - Adagio e piano - Presto e forte 2'15
3 - Presto 3'16
Potpourri op. 53
Johann Nepomuk Hummel (1778-1837)
4 - Un poco larghetto, Andante grazioso, Allegro animato,
Adagio cantabile, Tempo di Valze 10'28
Polonoise from Variationen op. 113 (65)
Mauro Giuliani (1781-1829)
5 - Allegro 7'58
Fantasia para un Gentilhombre
Joaquín Rodrigo (1901 - 1999)
6 - Villano y Ricercare 4'11
7 - Españoleta y Fanfare de la Caballería de Nápoles 9'02
8 - Danza de las Hachas 2'08
9 - Canario 4'35
Sonatina
Federico Moreno Torroba (1891 - 1982)
10 - Allegretto 4'27
11 - Andante 3'28
12 - Allegro 4'08
Serenade no. 13, K 525 **
Wolfgang Amadeus Mozart (1756 – 1791)
"Eine Kleine Nachtmusik"
13 - Romanza 6'32
total time: 68'08
** arranged by Robert Bekkers (2008)
Concertblog:
Mozart Eine Kleine Nachtmusik for piano guitar with live video recording,
12 March 2010