Introduced by the late Houston-based composer and pianist Robert Avalon, Anne Ku and Robert Bekkers met in Amsterdam in March 2001.
In March 2009, Anne began writing specifically about the duo, to share their reflections, feedback, and imprints with the world. The first blog on 24th March 2009 explains the raison d'etre:
I have long wanted to write the story of our duo: how it began, what it's like to rehearse together, why we do what we do, who we meet, and where we end up. As we begin another season of concertising, it's become ever necessary to use a blog engine like this one.
The drive from Utrecht to Amsterdam was uneventful until we arrived in the heart of the city where unexpected roadworks forced us to make a detour. [I should say that every concert experience is unique. There are always surprises. We're required by our concert organisers to arrive half an hour early. We always aim for a one hour slack because of traffic delays and our need to test the acoustics.] Luckily the detour was not extensive.
After parking in front of the building, we unloaded the car with our suit bag, guitar in case, microphone stand, and backpacks of our sheet music. We left the thermos flask of hot herbal tea and the box of Dutch cream puffs in the car for later.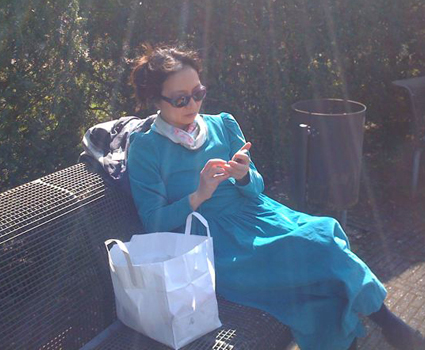 Anne Ku, after a concert, checking her mobile phone, March 2009
Concert Blog

since 2009

The concert blog, launched in March 2009, is updated on a regular basis, containing behind-the-scenes stories of concerts of the Piano Guitar Duo of Anne Ku and Robert Bekkers, including candid photos, audio clips, video clips, conversations, reflections, feedback, and ideas on cultural economics and creative entrepreneurship.

Please click here for the latest blog

The first blog entry 24 March 2009

Personalities:
Read ABOUT the blog: why, when, where, what, etc

You can also be notified via Twitter.

Blog entries and related photos:

Bennebroek, 2 April 2009
Seville, 14 - 21 April 2009
Madrid, 29 April - 2 May 2009
La Coruña, Spain , 2 - 7 May 2009

Amsterdam FCAP, 12 July 2009
London, 1 - 8 August 2009
Paris, 14 - 19 August 2009
Netherlands: various places and topics
Works of William, 19 August 2009
Paleochora, Crete, 21-28 August 2009
Monument House Concert Series in Utrecht, Netherlands
Hoorn, Netherlands, 13 October 2009
Helsinki, Finland 14 - 17 November 2009


Blogs on practising, rehearsing, and getting there:

Click here if you're looking for articles.








To book or reserve:
call 030 291 0214
or 061 438 2625
Monument House Concert Series
Keulsekade 25
3531JX Utrecht
The Netherlands