Squeezing 8 Hands on One Piano
for 5 pianists
Premiered 24 March 2007
Updated 10 April 2007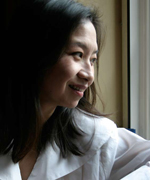 MP3 (3.8MB) live recording
PDF score (210 kB)
About "Squeezing 8 Hands on One Piano "
How many pianists can participate in a piano duet? Two? Three? Four? Why not five? I wrote this piece while learning about minimal music. Pianist Liesbeth Spits worked with her top students to premiere on 24th March 2007 at the Wilde Western Ensemble Concert (Wild West Ensemble Concert) for students aged 7 to 18 in Utrecht, Netherlands. The hardest part about the piece is to get all five pianists together to rehearse, given the busy schedules of teenagers. Of course, keeping the tempo steady is another challenge. But it worked! And I'm extremely pleased with the result. Thank you Liesbeth, Merlan, Paula, Susanna, and Esther for playing it! Thanks to Kees for the live recording!
About Anne Ku
Born in Brunei of Chinese parents, Anne Ku spent her childhood in Okinawa and received a full scholarship to Duke University in the US where
she studied piano under Randall Love. Besides studying composition at Utrecht Conservatory, she is also active promoting piano guitar duo music, writing didactic music for teaching piano, and as organiser of the Monument House Concert Series in Utrecht. She is currently giving a new course called "Concerts and Concepts" in Leiden.